---
A Yoga Synergy Online Course
Advanced Yoga Fundamentals
Blending the science of physiotherapy and traditional yoga.
---
WHO can safely perform a pose (with modifications, precautions, and contraindications)
deepen both your yoga practice and your teaching
gain an in-depth knowledge of yoga postures and pranayama
Expert Instructors
Gain CEP Points with Yoga Alliance and Yoga Australia
Highly Acclaimed
ONLY
---
$587
---
Enrol Today
Advanced Yoga Fundamentals: Essentials for teaching Yoga
This is a must-do course for anyone who wants to become a yoga teacher and/or deepen their yoga practice. Between them, Bianca Machliss and Simon Borg-Olivier have practised and studied yoga for over half a century. This thirteen week online course will ground you in the fundamentals of yoga.
WHAT YOU WILL LEARN
WHAT each pose entails including internal actions usually undetected visually
WHERE to focus activity in the body to reach the desired outcome of the pose
WHEN a pose is best performed in the sequence/when the body is ready for more challenge
WHY the pose affects movement of energy and information in the body's deep pathways
HOW the body can achieve the greatest benefit from each pose through tips and mindsets
Highlights
120 hours online & 60 Continuing Education Points (CEP) credited with Yoga Australia
Expert instruction from qualified physiotherapists and experienced yoga teachers, Simon Borg-Olivier & Bianca Machliss
Based on the award winning RMIT university course.
Weekly Topics You Will Cover
Topic 1: The history and philosophy of yoga
Session 1.1: The purpose of yoga
Session 1.2: The history of yoga
Session 1.3: The philosophy of yoga
Topic 2: Basic applied anatomy and physiology of yoga
Session 2.1: Bones, joints and muscles
Session 2.2: Regulation and control of the body
Session 2.3: Circulation and breathing
Session 2.4: What you need to know in order to safely and effectively execute a physical yoga exercise
Topic 3: Physical yoga practice: introductory and finishing sequences
Session 3.1: The nerve-lengthening sequence
Session 3.2: the pure spinal movement sequence
Session 3.3: The salute-to-the-sun sequence
Session 3.4: The salute-to-the-moon sequence
Session 3.5: The seated finishing floor sequence
Topic 4: Physical yoga practice: Standing sequence part A
Session 4.1: The triangle sequence
Session 4.2: The side-spine lengthening sequence
Topic 5: Physical yoga practice: Standing sequence part B
Session 5.1: The elephant sequence
Session 5.2: The standing one-sided forward-bending sequence

Why study with us?
Yoga Synergy offers the most comprehensive Yoga Education and Training in Australia. We provide the support and flexibility you need to learn.
Flexibility
Not just in body and mind - study anywhere, anytime. All of our courses are accessible 24/7 on your PC, Mac, smartphone or tablet.
Experience
Simon Borg-Olivier and Bianca Machliss are experienced yoga practitioners and physiotherapists and have been training teachers for over 20 years.
Support
Our excellent support team is here to help you get the most out of your studies. Contact us whenever you have a question.
Highly Qualified teachers

The course is explained simply and practically by experienced yoga teachers and physiotherapists, Simon Borg-Olivier and Bianca Machliss.

Certification

Study at your own pace. Receive a certificate of successful completion

Earn CEP

This course is a minimum 24 hours online and worth 24 Continuing Education Points (CEP) credited with Yoga Alliance, 12 CEP with Yoga Australia.
Bianca Machliss BSc BAppSc (Physiotherapy) is a co-founder and owner of Yoga Synergy and has over 27 years experience teaching yoga, managing a studio and creating a community. She is a registered physiotherapist, research scientist and ACHPER graduate. Read more about Bianca
Simon Borg-Olivier MSc BAppSc (Physiotherapy) is a co-founder and owner of Yoga Synergy. Simon has been teaching yoga since 1982. He is a registered physiotherapist, research scientist and a university lecturer. He teaches classes and workshops in Australia and around the world. Read more about Simon
Get Started and Enrol Today
Study at your own pace with 6 months access including downloadable course material
ENROL NOW
Discounts for Further Study
We offer discounts to those who study more Essential Online Courses with us.
This is our recommended progression of study, but of course you can choose whatever order you like:
2nd Course
25% Off
AUD $440
We recommend studying Applied Anatomy and Physiology (AP) of Yoga as your second course.
12 week course + exams and revision
Total access period 12 months including downloadable videos & course materials
"I insist that all teachers at our studios have completed the Yoga Synergy online courses and actively encourage anyone with a strong interest in Yoga to take this course"David Cunningham, The Yoga Shala, Ocean Fitness, Galway Ireland
Developed by physiotherapists & senior yoga teachers.
Learn practically how to apply yoga for therapy. Case studies.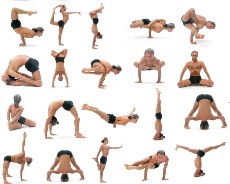 Learn how to safely & effectively perform 84 yoga postures.
Thank You and Namaste
Simon and Bianca